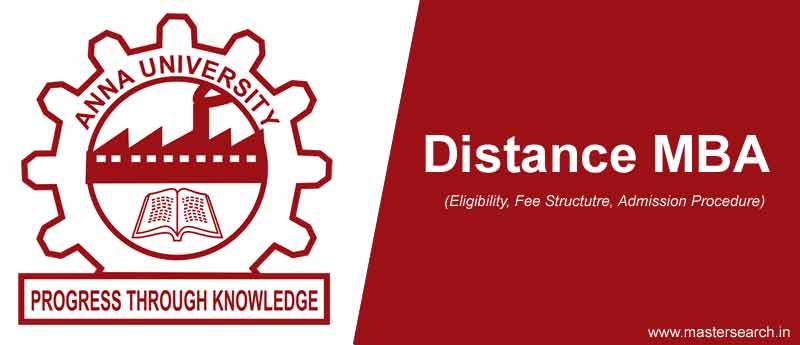 Anna University – Center for Distance education is located in Chennai. It was established in 2007 with the motto "Progress through Knowledge". This university is dedicated towards very professional education programs such as distance MBA, MCA, and other postgraduate courses.
All these distance courses would provide students with adequate technical skills and knowledge to face the ever-changing business needs. The Anna University Distance MBA focuses on soft skills development, professional etiquette, personality development, and managing skills for the challenging corporate world.
Related Post: Anna University Distance Education, Shobhit University Distance MBA
Duration of Program:
The minimum duration of Distance MBA from Anna University is 2 years. However, the university provides the maximum duration of 4 years to the students to complete their course on time and eligible for the award of Master Degree.
Specialization:
The university provides the number of specializations in its distance MBA course. The students can choose any of it in the second year of its course. We have mentioned below the list of Anna University Distance MBA specializations :
M.B.A in General Management
M.B.A in Technology Management
M.B.A in Marketing Management
M.B.A in Human Resources Management
M.B.A in Financial Services Management
M.B.A in Health Services Management
M.B.A in Operations Management
M.B.A in Hospitality and Tourism Management
Do you want to check out Anna University Distance MBA Syllabus?
Eligibility Criteria:
To pursue Distance MBA from Anna University, Center for Distance Education, the candidate must have the following qualification:
A Bachelor Degree in any field from any government recognized university and the candidate have to qualify The Distance Education Entrance Test conducted by Anna University, Center for Distance Education (CDE).
DEET: One of the important eligibility criteria to join Anna University is its DEET i.e. Distance Education Entrance Test held twice a year.
First in the month of January for the Calendar Year Batch.
Second in the month of July for the Academic Year (AY) batch.
These two entrance tests are conducted by the Anna University at its selected centers only. Entrance test centers are Chennai, Coimbatore, Madurai, Trichy, and Vellore.
Anna University Distance MBA Admission Procedure: The Candidate willing to take Anna University Distance MBA admission has the follow the 3 step admission procedure
Applying: The eligible candidates will be provided the printed Application Form of Distance MBA Program at CDE Anna University, Chennai by a Demand draft (D.D) of Rs. 650/- which must be drawn in favor of "The Director, Centre for Distance Education, Anna University Chennai" and it should be payable at Chennai or they can also get it by post for which they need to send a request letter and a D.D. of Rs.700 drawn as same mentioned above. Candidates can also download the Application Form from the university's official website and send it along with D.D of Rs. 650/- to the same address mentioned as above.
Admission Procedure: Those Candidates who will qualify the Anna University Entrance Test (DEET); will be selected and called for the admission. CDE of Anna University will prepare a rank list based on the marks obtained in the DEET and TANCET (Tamil Nadu Common Entrance Test). The admissions will be based on these two rank lists as per their rank against the seats. The choice for Study Centre is also based on the rank obtained by the candidates in entrance tests.
Selection Process: The candidates are treated on first come first serve basis for the process of selection. A Candidate has to provide some documents at the time of the admission along with the admission form as:
Eligibility certificates: Qualification Mark sheets, Degree certificates, Citizenship proof, Passport, OCI Card, Transfer certificate with Xerox copies.
Fees Structure:
The Anna University fee structure of Distance Education MBA program is as follows:
First semester: Rs.18,650 /-
Every subsequent semester: Rs.12,500/-
The fee includes the cost of study material as well.
Examinations:
Anna University conducts examinations semester wise twice a year which also has re-examination for the failed candidates and absentees.
Placements:
Anna University has its separate training and placement cell which looks into the placements of eligible candidates. In past few years, Anna University has got placements in major corporate giants with huge packages.
Anna University Contact Details:
Address: Anna University, Center for Distance Education, Chennai – 600025
Email: distanceprog@annauniv.edu
Phone: 044–22357216, 20, 21, 22, 23, 24
Website: http://cde.annauniv.edu/
I hope you guys find this information helpful. For more such stuff keep reading stay connected.