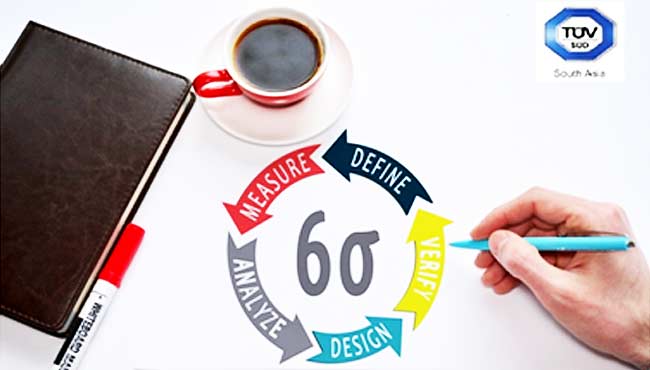 Get Certified with TÜV SÜD Six Sigma Green Belt – TÜV SÜD Certified Six Sigma Green Belt is considered as a mark of quality excellence in industries. It assists certified candidates in advancing their career and boosts their organization's bottom line through their knowledge and skills in quality and problem-solving. A Six Sigma Green Belt candidate confirms commitment to quality and the positive impact it will have on his organization
Obtaining your TÜV SÜD Six Sigma certification makes you stand out from the crowd when you're applying for a new job or trying to get a promotion with your current employer. Six Sigma expertise is in high demand and hiring managers at companies that have implemented Six Sigma know the value of certification. They understand the commitment it takes to become Six Sigma certified and might not even consider your application if you don't have the credential
Six Sigma certification shows employers not only that you understand Six Sigma but also that you are committed and motivated. They instantly recognize that you're very knowledgeable in reducing costs, increasing revenue, improving quality and processes, and gaining employee buy-in.
Job Opportunities for Certified Six Sigma green belts:
A wide variety of companies and government organizations use Six Sigma and need certified green belts Companies like American Express, Boeing, Amazon.com, and Bank of America have all used Six Sigma to improve processes and business operations.
Green belt you have and how much experience you have participating in or leading Six Sigma projects, you could obtain a job in operations, manufacturing, information technology, quality assurance, and more.
For example, green belts, could be employed as Six Sigma consultants, production managers, quality analysts, business analysts, manufacturing engineers, process development engineers, project managers, warehouse operations managers, information technology project managers, data scientists, industrial engineers, process improvement directors, and more.
Six Sigma, businesses improve their services, processes, and reputation, thereby strengthening strategic partnerships within their industry.
Organizations that implement Six Sigma can experience a competitive advantage in their industry and an overall positive change in their organization's culture. Individuals who obtain certification will attract top employers, receive higher pay, and advance quickly in their careers.
About IIBM Institute:
Established in 2008, IIBM began its mission with the sole purpose of imparting professional education to career aspirants even in the remotest corners of India and the world.
The institute offers a wide range of Master Certifications, Executive Programs, Dual Programs and Professional Programs. All the programs have been designed with industry-oriented and updated curriculum considering the real-world business scenarios.
Thousands of IIBM alumni are working with leading companies like Citibank, Wipro, Dell, Honeywell, and HCL & Convergys.