IGNOU BA English Solved Assignments 2016-17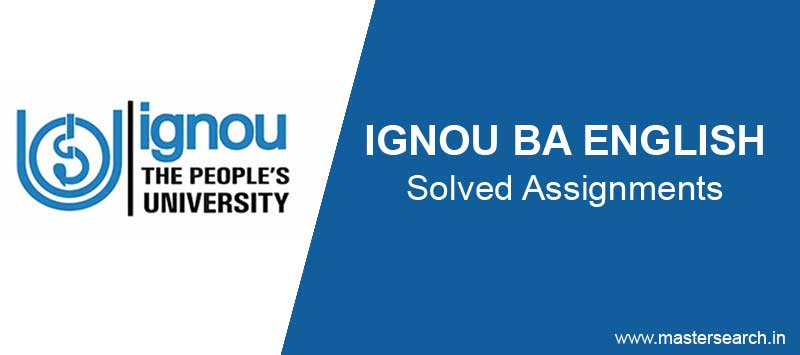 To obtain IGNOU BA English Solved Assignments 2016-17, you can send an email at ignouworld@gmail.com. The Indira Gandhi National Open University provides the task to all its students to submit the solved assignments to their study centre for their respective programme and courses before the start of Term end examination and last date of submission of assignments. So, same is the case for the students who are pursuing BA English from IGNOU. Related Post: IGNOU MA English Solved Assignments
The students have to submit the IGNOU BA English Solved assignments for their related courses.There are a number of courses in this Bachelor Degree programme such as BEGE-101, BEGE-102, BEGE-103, BEGE-105, BEGE-107, BEGE-107, etc, for which the students need to submit the solved assignments.
It is mandatory to submit IGNOU Solved Assignments for the related courses before filling up the IGNOU Term End Examination. Because if you will not submit the solved IGNOU assignments to your respective study centre in the prescribed format then you will not be allowed to appear in the examination even if you were accidentally able to submit the exam form as well. Related Post: IGNOU Assignment Result
The university provides the assignment question papers for all the courses mentioned below on its official website for the current and old session. The last date of submission of IGNOU BA English Solved assignments is also mentioned in the assignment question paper booklet as well.The university upload the assignment questions in the form of separate booklet for these two different courses where each assignment is valid for one whole year or two admission cycles i.e January and July
The IGNOU assignments are known as Tutor Marked Assignments (TMA) and these are very much an important part of the curriculum of any programme and its related courses. These constitutes 30% weightage of total marks allotted to any course whereas theory part constitutes remaining 70% marks. So, it becomes very important for students to take the assignments seriously and submit the IGNOU solved assignments before the last date of submission.
As mentioned above, the students can send an email at ignouworld@gmail.com to obtain the assignments mentioned below:
IGNOU BEGE-101 Solved Assignment
IGNOU BEGE-102 Solved Assignment
IGNOU BEGE-103 Solved Assignment
IGNOU BEGE-104 Solved Assignment
IGNOU BEGE-105 Solved Assignment
IGNOU BEGE-107 Solved Assignment
IGNOU BEGE-108 Solved Assignment
Subscribe to us for more latest updates related to solved assignments.