IGNOU M.COM Solved Assignments 2018-19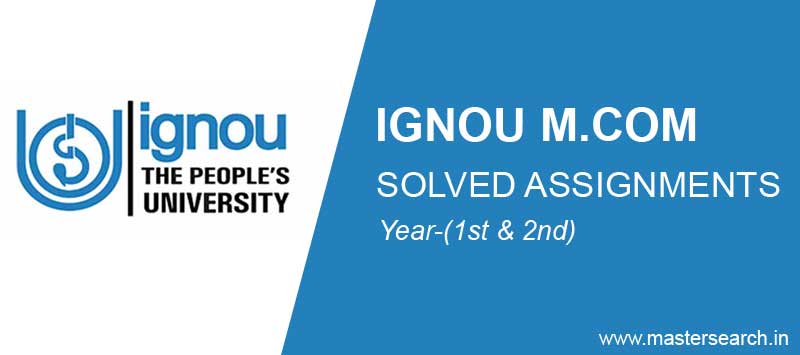 Students who are pursuing Master of Commerce programme from Indira Gandhi National Open University needs to submit IGNOU M.Com Solved Assignments 2018-19 for each of their course.
They have to submit solved assignments to their respective Study Centres. The university provides the Tutor Marked Assignments for all the courses in the form of a booklet.
Please send email at ignouhelp4all@gmail.com or WhatsApp at 7428482160 for IGNOU M.Com solved assignments 2018-19
Related Post:
The university sends the IGNOU M.Com Assignment 2018-19 questions booklet to students at their physical communication address via post. Also, the students can download the assignments from university official website at www.ignou.ac.in.
As we know, It is a two-year master degree programme. Therefore, the students have to submit the IGNOU M.Com Solved Assignments 2018-19 as per their respective year. The university provides the separate booklet for 1st year and 2nd-year assignment questions.
There are six courses in each year. So, the student studying this programme has to complete IGNOU M.Com 1st year Solved Assignments  and IGNOU M.Com 2nd year Solved Assignments for all the twelve courses.
The assignments should be submitted to the respective Study Centre before the submission of IGNOU exam form and before the last date. The students can check out the assignment question papers for the last date of submission.
Download IGNOU M.Com Solved Assignments
This is a right place for all those students who are looking out for the solution to these assignment questions. We have provided below the link to download IGNOU M.Com Solved Assignments 2017-18. The students can download the assignment solutions free of cost for all 12 courses in the form of pdf file.
Although, we are providing here the links for downloading assignment solutions but we request the students to just take help from these solutions and try to make it by yourself. The students must try to solve the assignments by studying their Study Material for their respective courses.
We have provided below the link where you can download the assignment solutions for 1st & 2nd Year courses:
IGNOU M.COM 1st Year Solved Assignments 2017-18

Course Code
Course Title
Download Link
 IBO-01
International Business Environment
Click Here
 IBO-02
 International Marketing Management
Click Here
 IBO-03
 India's Foreign Trade
Click Here
 IBO-04
 Export Import Procedures and Documentation
Click Here
 IBO-05
 International Marketing Logistics
Click Here
 IBO-06
 International Business Finance
Click Here

IGNOU M COM 2nd YEAR Solved assignments 2017-18

Course Code
Course Title
Download Link
MCO-01
Organization Theory and Behaviour
Click Here
MCO-03
Research Methodology and Statistical Analysis
Click Here
MCO-04
Business Environment
Click Here
MCO-05
Accounting of Managerial Decisions
Click Here
MCO-06
Marketing Management
Click Here
MCO-07
Financial Management
Click Here
Importance of Solved IGNOU M.Com Assignments
The IGNOU M.Com Solved assignments constitute 30% of total marks for any particular course which requires the assignment submission. So, it becomes very important for the students who are pursuing this programme to submit the solved assignments very neat and clean to score good marks. It will help them in improving their total percentage of marks.
Subscribe with us for the latest updates about IGNOU M.Com Assignments and its solutions.