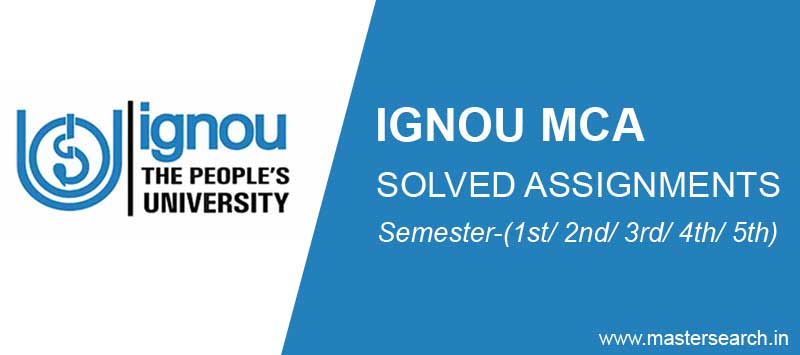 The students who are pursuing Master of Computer Applications from Indira Gandhi National Open University need to submit Ignou MCA solved assignment 2017 to their respective Study Centres. The assignments constitute 30% of total marks for any particular course which requires the assignment submission.
So, it becomes very important for any student to submit the Ignou solved assignments very neat and clean to score good marks. It will help them in improving their total percentage of marks. Related Post: IGNOU MA English Solved Assignments.
The university has divided the Master of Computer Application courses into six semesters. So, the students studying in various semesters have to submit the following assignments as per their courses.
Related Articles: Ignou M.Com solved assignments, How to write Ignou assignments?, Ignou assignment result
Last date of submission of IGNOU MCA Assignments:
The students need to submit the IGNOU MCA Solved Assignment as per the schedule provided by the university. The students who have taken admission in July 2016 session can submit their assignments by 15th October 2016.
The last date to submit assignments for the students who will take admission in January 2017 session is 15th April 2017. After submitting the assignments, the students can check their IGNOU Assignment submission status on the university official website.
IGNOU MCA Solved Assignment Free PDF Download:
To help out students, we have provided the links below where you can download Ignou MCA solved assignment free of cost for the year 2016-17.
IGNOU MCA 1ST SEMESTER SOLVED ASSIGNMENT 2016-17

Course Code
Course Title
Download
MCS-011
Problem Solving and Programming
Click Here
MCS-012
Computer Organisation and Assembly Language Programming
Click Here
MCS-013
Discrete Mathematics
Click Here
MCS-014
Systems Analysis and Design
Click Here
MCS-015
Communication Skills
Click Here
MCSL-016
Internet Concepts and Web design (Lab Course)
Click Here
MCSL-017
C and Assembly Language Programming Lab
Click Here

IGNOU MCA 2ND SEMESTER SOLVED ASSIGNMENT 2016-17

MCS-021
Data and File structures
Click Here
MCS-022
Operating System concepts
Click Here
MCS-023
Introduction to Database Management Systems
Click Here
MCS-024
Object Oriented Technology and Java Programming
Click Here
MCSL-025
Lab (Data Structures using C, WINDOWS 2000, LINUX / UNIX, Java and MS? ACCESS, My SQL)
Click Here

IGNOU MCA 3RD SEMESTER SOLVED ASSIGNMENT 2016-17

MCS-031
Design and Analysis of Algorithms
Click Here
MCS-032
Object Oriented Analysis and Design
Click Here
MCS-033
Advanced Discrete Mathematics
Click Here
MCS-034
Software Engineering
Click Here
MCS-035
Accountancy and Financial Management
Click Here
MCSL-036
Laboratory Course (For Object Oriented Analysis and Design, Software Engineering and Accountancy and Financial Management)
Click Here

IGNOU MCA 4TH SEMESTER SOLVED ASSIGNMENT 2016-17

MCS-041
Operating Systems
Click Here
MCS-042
Data Communication and Computer Networks
Click Here
MCS-043
Advanced Database Management Systems
Click Here
MCSP-044
Mini Project
Click Here
MCSL-45
Lab (UNIX and DBMS)
Click Here

IGNOU MCA 5TH SEMESTER SOLVED ASSIGNMENT 2016-17

MCS-051
Advanced Internet Technologies
Click Here
MCS-052
Principles of Management and Information Systems
Click Here
MCS-053
Computer Graphics and Multimedia
Click Here
MCSL-54
Lab (based on MCS 51 and MCS 53)
Click Here
MCSE-3
Artificial Intelligence and Knowledge Management
Click Here
MCSE-4
Numerical and Statistical Computing
Click Here
MCSE-11
Parallel Computing
Click Here
The students need to submit the IGNOU MCA Solved Assignments to their respective study centre before filling up the examination form and also before the last date of submission of assignments. Most of the IGNOU MCA courses requires the submission of assignments to complete it. There are few practical courses in Master of Computer Applications programme of IGNOU for which you need to submit the assignments as well.
The importance of submission of good written IGNOU MCA Solved assignment is equivalent to appearing in Term End Examination. As we described above, the students need to pass out both the components to complete any particular course. To solve assignments, the students can easily The university also sends the hard copy of assignment booklet to student's physical address via post as well. But in case if any student does not receive it via post, they can easily download the IGNOU MCA assignment booklet in the form of pdf file from university official website at www.ignou.ac.in.
Apart from the importance of submitting the assignments in securing good marks, it is also mandatory to submit the IGNOU Solved assignments to appear in the examination. The university will not accept the IGNOU Exam Form of such students who do not submit their assignments. Even if the students are able to submit their exam form by some way. Then also, they will not be allowed to sit in the examination. So, it is advised to all the students to complete their assignment task before the due date and submit it to the respective study centre.
Subscribe with us for the latest updates about IGNOU MCA Assignments.