IGNOU MEG 12 Question Papers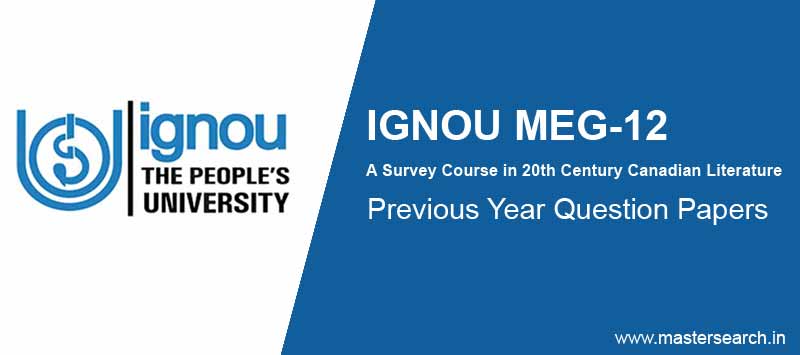 IGNOU MEG 12 question papers Dec 2018, June 2018, Dec 2017, June 2017, Dec 2016, June 2016, 2015, etc can be downloaded here.
Related Posts:
The Indira Gandhi National Open University conducts the MEG-12 A Survey Course in 20th Century Canadian Literature examinations every year in the month of June and December examination.
To prepare for the upcoming examination, the students must download the IGNOU MEG 12 Question Papers for previous years. It can help them in securing good marks.
The university provides the previous question papers free of cost in the form of pdf files on its official website at www.ignou.ac.in.
The university publishes the tentative IGNOU MA English date sheet three months before the commencement of examination in both June and December months.
It is very helpful for students as they can start preparing for the MEG-12 examinations very earlier as they know the date of examination. They can download IGNOU MEG 12 previous Question papers to know the exam pattern and important questions.
IGNOU MEG 12 Question Papers Free Download
For the student's convenience, We have provided below the direct links to download IGNOU MEG 12 Question Papers for previous years 2018, 2017, 2016, June 2015, December 2015, June 2014, December 2014, June 2013, December 2013.
The question papers are available in the PDF form. The students can download the previous papers to their mobile or computer to solve it then or later on. Click on links below to download previous papers:
Subscribe to us to know more about the previous question papers of Indira Gandhi National Open University.