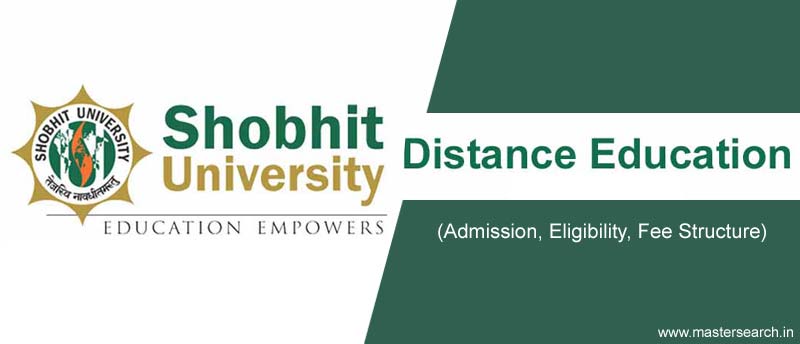 The Shobhit University Distance Education is one of the renowned distance learning options available in India. The university is located at Meerut, India. The Shobhit University was established in the year 2006 by NICE society.
It has been established with the mission of "Empowering nation through Education". The University offers quality distance education to the learners across the country. Do you also want to check your Shobhit University Distance Education Result?
The university is actively providing regular as well as distance education to the learners. The Shobhit University offers distance education under its School of Distance education (SDE). The Shobhit University distance education is offered in several streams but its distance MBA program is very popular among the learners.
The Shobhit University distance MBA is offered in more than 50 streams. It has been recognized and affiliated by many authorities like University Grants Commission U.G.C., Distance Education Council, and Association of Indian Universities etc.
Key Points:
The key points for choosing this university are:
It has the minimum eligibility criteria and very few requirements to get admission
Its distance education courses are designed to focus on the latest technology and sound education standards for students who are willing to study but are unable to do regular classes.
It has very low fee structure which allows students from different background to peruse education
Easy admission procedure.
High-quality study material which helps to understand the subject in depth.
Easy exam procedure which helps working students to easily attend exams.
Courses  Offered:
The Shobhit University provides a number of distance education courses to the learners such as Under Graduate, Post Graduate, Diploma, Certificate. These courses are designed by top faculties keeping in mind the increasing need of distance education and online education.
The willing candidates can enroll for the courses they want and pursue the education at ease. Below, we have mentioned the list of  Shobhit University Distance Education Courses:
Certificate Courses (in 9 streams)
Diploma Courses (in more than 25 streams)
Under Graduate courses:
B.A. or Bachelor of Arts (in more than 15 streams)
B.Sc. or Bachelor of Science (in more than 20 streams)
B.Com: Bachelor of Commerce
Bachelor Insurance & Risk Management
BBA: Bachelor of Business Administration
BLIS: Bachelor of Library information Science
BJMC: Bachelor of Journalism & Mass Communications
BCA: Bachelor of Computer Application
BFA: Bachelor of Fine Arts
BMRIT: Bachelor of Medical Radio Imaging Technology
Post Graduate courses:
A. or Master of Arts (in more than 15 streams)
MBA or Master of Business Administration (in more than 15 streams)
E-MBA or Executive M.B.A Programme (in 10 streams)
Sc. or Master of Science (in 9 streams)
Post Graduate Diploma Courses (in 20 streams)
M.Com: Master of Commerce
MCA: Master of Computer Application
LLM: Masters of Legislative Law
MFA: Master of Fine Arts
MJMC: Master of Journalism & Mass Communications
MLIS: Master of Library Information Science
MSW: Masters of Social Work
Master Degree in Insurance & Risk Management
Eligibility Criteria:
The learners can check out the eligibility criteria for each course in the Shobhit University Distance Education prospectus. The students who are interested in applying for admission to Shobhit University distance learning programs can contact the university for more information related to eligibility, fee, procedure.
Admission procedure:
The admission procedure is very easy at Shobhit University. A candidate can get admitted in this university by following steps:
A candidate can visit School of Distance Education personally to get admission form OR
Candidate can download the admission form from university official website by paying required amount OR
Candidate can collect the admission form from the university campus as well as the study centers.
After filling up Shobhit University distance education application form, the candidates can submit it to SDE along with the required documents as eligibility proof. Also, the candidate has to present the original documents at the time of admission for the purpose of verification. These documents will be returned back to the candidate after verification.
Fee Structure:
The Shobhit University fee structure contains registration fee, course fee, study material and exam fee etc. A candidate in total has to pay Rs. 15000/- to 80000/- per annum as fee depending upon the course he/she wants to pursue.
Examination:
The university has semester-wise exam pattern. Each year included of 2 semesters. It held semester-wise exams every year in the month of June and December at authorized examination centers all over the country.
Placements:
It believes in quality education through which it develops your overall corporate and business skills. On behalf of your learning and capabilities, you can apply for jobs in your specialization areas.
Contact details:
Address: Shobhit University School of Distance Education NH-58, Modipuram Meerut, Uttar Pradesh India, Pin Code no. 250110
E-mail: sde@shobhituniversity.ac.in
Go get admission to School for distance Education, Shobhit University and get your degree without leaving your current profession. Hoping this article to be helpful for you. I will keep you updating with more distance learning institutes. Subscribe to us for more updates.