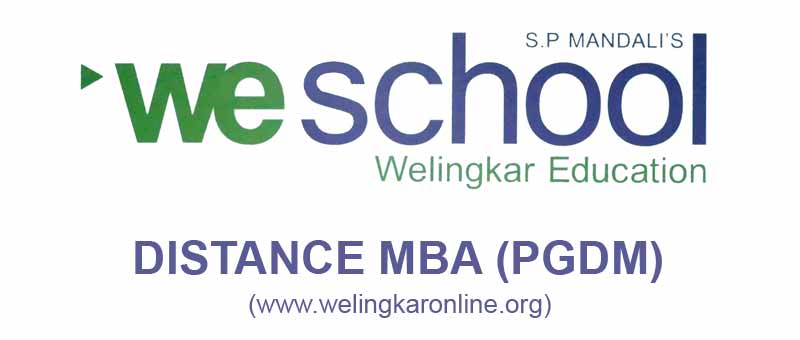 The Welingkar Institute of Management is very well known and well-established business schools of not only India but it has made its remarkable presence in Asia as well. Welingkar Institute has several different ventures but what makes it remarkable is "Distance Education".
The Institute has crossed all the bridges after launching Distance MBA program. The institute has overcome the geographical limitations and it has gone beyond to offer its distance learning management courses.
Welingkar Distance MBA admission is offered to the learners all over the world. It is a part of a 120-year-old trust that successfully runs 43 plus schools and colleges. Also, You can check out Anna University distance MBA program.
The distance learning centres of Welingkar institute are located in various cities like Mumbai, Pune, and Hyderabad etc. It is recognized from Mumbai University and is AICTE and DCE approved management institute.
The Institute provides quality education to the students all over the world allowing them to learn management and leadership skills flexibly and conveniently. It is quite easy to study with Welingkar Institute of Management as it does not interfere in your daily professional routine.
Lectures are delivered online so that you can learn things better and interact with people who are located at diverse locations.
Official Website: http://www.welingkaronline.org
Distance MBA has become very popular these days as everyone wants to become independent at early ages, so to carry both your education and profession simultaneously there is a need of some course which does not need full-time attention. Hence, Welingkar Distance MBA comes into the picture.
The institute caters to the need of today's world of distance learning courses. They also provide experimental learning workshops so that students can get a thorough knowledge of marketing and business concepts and they can easily apply them to the real world.
Award of Certificates:
On Successful completion of the first year, the students will be awarded Advanced Diploma in Business Administration.
On Successful completion of the second year, the Post Graduate Diploma in Management (Specialization)-Hybrid program (PGDM-HB) will be awarded to students which are equivalent to distance MBA.
Programme Structure:
The institute offers "hybrid" model to study its various distance learning courses. It comprises of various modes of educational and formats of teaching. It enables the students to learn comfortably and conveniently.
In the first year of Distance MBA (PGDM-HB) course, the students have to study the foundation courses which covers all the aspects of Management. There are a total number of 12 subjects which includes common and compulsory irrespective of specialization chosen.
In the second year, the subjects are only related to the Specialization. The students have to choose any one of the specializations mentioned below to complete their Post Graduate Diploma (Distance MBA). The students can choose from following Eighteen specializations:
Marketing Management
Finance Management
Human Resource Management
Operations Management
Supply Chain Management
E-business Management
International Business
General Management
Banking, Investment & Insurance
Retail Management
Services Excellence
Rural and Agri Business Management
Media And Advertising Management
Travel & Tourism Management
Healthcare Management
Hospitality Management
IT Projects Management
E-Commerce Management
Welingkar Distance MBA (PGDM) Eligibility Criteria:
To take admission to Welingkar distance MBA course, the candidate does not need to appear in any entrance test. The institute offers direct admission to the interested and eligible candidates. However, the university has set up certain eligibility criteria to apply for admission which is as follows: student must fulfill the following criteria.
If you want to take admission to Welingkar distance MBA course, you must have completed graduation from any recognized university.
The diploma holders with 3 years of work experience post diploma can also apply for admission. The diploma should have been completed from any recognized polytechnic college .
The students who are in final year of their degree course can also apply for admission. But they have to complete their degree in prescribed time frame.
Welingkar Distance MBA Fee Structure:
One Time fee Payment for 2 years: Without Personal Contact Program (PCP), the total payable fees for this course is INR 61000/-. The fee has to be paid in advance. If the candidate wants PCP (Personal Contact Program classroom lectures), then he/she has to pay a bit extra i.e INR 3600/- for the first year at the time of admission. It means the total fee would be INR 64,600/- for two years.
Yearly Fee Payment: In another case, if any candidate is unable to pay the complete fee in advance, then he/ she can choose the option to pay the fee per year. They have to pay the total fee of INR 64,600/-.
In the first year, Without Personal Contact Program (PCP), the student has to pay Rs. 32,500/- + 1000/- (prospectus) = Rs. 33,500/- per year. if they want PCP, then they have to pay Rs.3600/- extra during the time of admission.
In the second year, the students have to pay INR 32,500 which has to be paid before the second year starts.
The total fee for an Overseas Student to take Welingkar Distance MBA admission is $ 2000 (dollar rate applicable).
Mode of Fees Payment: The candidates can choose various options to pay their admission fee. i.e they can pay their fee by Cheque/Net banking/ Credit Card/Debit card.
Welingkar Distance MBA Admission Procedure (2 Year- PGDM):
The very first step to apply for admission is to obtain the Programme guide. The interested candidates who satisfy the eligibility criteria can obtain the prospectus from the institute itself by paying INR 1000.
Students who are residing outside Mumbai can also obtain the Welingkar distance MBA prospectus by post. They have to send the Demand Draft of Rs.1050/- to the institute. The DD has to be drawn in favor of Welingkar Institute of Management, payable at Mumbai.
After reading and understanding the prospectus, the learner can make a decision to apply for admission to Welingkar Post Graduate Diploma in Management course. The candidates can fill the application form online from the official website of Welingkar Institute.
After filling the form, they have to take the print out of submitted application form. The candidates need to submit it to the institute along with relevant documents and course fees.
As soon as your admission is confirmed, you will get a student ID card. The institute will also provide you the study material for the better understanding of the subjects.
Online live lectures are also conducted for some specific subjects which can be attended after enrolling online. Regular Industry visits are also conducted by the institute to enrich their professional knowledge. Some nominal charges are to be paid for these visits.
Welingkar Distance Learning Contact Details:
Address: Prin. L. N. Welingkar Institute of Management Development & Research, Lakhamsi Napoo Road, Next to R. A. Podar college, Matunga (central Rly), Mumbai – 400019.
Email: admissions.hybrid@welingkarmail.org
Website: www.welingkaronline.org
So, hurry up get ready and get your dreams fulfilled with Welingkar Distance MBA . Hoping this blog to be helpful for you in making the best decision for your future. For more valuable information keep reading my section.