Ignou Phd admission July 2017 & Ignou M.Phil admission July 2017 – The Indira Gandhi National Open University has published the notification for admission to its research degree programmes for July 2017 session.The interested candidates should check out eligibility criteria before applying for admission.
To shortlist candidates for Ignou Ph.D and M.Phil admission, the university will conduct the entrance test.The information brochure and online application form for M.Phil./Ph.D. entrance test can be filled online from 10th July 2017.
The last date of submitting application form is 31st July 2017. At the end of this article, we have provided the direct link to fill up online application form and download information brochure (prospectus).
The interested and eligible candidates can apply for entrance test by filling up the application form on the university official website.The application fee for entrance test is Rs.1000/- which is non-refundable in any case.
The entrance test will be conducted on 20th August 2017 (Sunday) at National Level in selected examination centres across the country. To know the list of exam centres, please check out "Appendix I" in the information brochure.
Related Post: Ignou distance MBA, Ignou MBA banking and finance
Earlier, the University Grant Commission has stopped the IGNOU to offer these programmes. But, now the university has relaunched these doctoral programmes in strict compliance with the UGC Regulations, 2016. It's a great news for all those learners who wishes to pursue Ph.D. / MPHIL programmes from Indira Gandhi National Open University.
We have provided below the link to download information brochure which consists of information such as eligibility criteria, selection procedure, etc.
Important Dates:
The candidates will be able to fill up online application form for M.Phil./Ph.D. entrance test from July 10, 2017, for the July 2017 session.
The last date of submission of application form online is July 31, 2017.
The date of Ph.D. / MPHIL entrance test is August 20, 2017
Declaration of entrance result: September 22, 2017 (Tentative)
Note: It should be noted that the application for entrance test has to be submitted only by online form and no other mode of application is accepted.
Ignou MPHIL / Ph.D. Admission Eligibility criteria:
The candidates who wishes to apply for admission to M.Phil./Ph.D. programme must satisfy the eligibility criteria which has been mentioned below:
1) For M.Phil.:
The candidate must possess the Master's Degree of any recognized University/other qualifications recognized as equivalent thereto in such fields of study as are notified for the purpose from time to time by the University. The minimum marks required for General Category candidate to fulfill eligibility criteria is 55% at Post Graduation level. In the case of candidates belonging to reserved categories such as SC, ST, OBC (NonCreamy) and PWD, the minimum marks required are 50%.
For detailed discipline-specific eligibility criteria, please click here
2) For Ph.D.:
To apply for admission to the Ph.D. programme, the candidate must possess Master's Degree and/or M.Phil. in the relevant discipline with 55% marks at Post Graduation level (for General Category) or 50% marks (for SC, ST, OBC (NonCreamy) and PWD).
For detailed discipline-specific eligibility criteria, please see Appendix RU – I of the information brochure.
The candidate possessing the M.Phil. degree (along with course work and dissertation both) do not need to appear in the entrance test as they can directly apply for admission. Also, the candidates who have cleared NET (conducted by UGC/CSIR/ICAR) or any other equivalent examination will be exempted from appearing in the Entrance Test.
Selection Procedure:
At the first stage, the university will conduct the IGNOU Ph.D. / M.Phil entrance test on above mentioned date at National Level. For more details please check out Appendix RU – III of information brochure.
After the application submission process is over, the university will upload the list of candidates who will be required to appear in the Entrance Test on its official website at www.ignou.ac.in.
The candidates will be able to download PHD/ MPHIL entrance hall ticket from the same website 10 days before the examination. Please download it and take print out of it to bring it along with you in the entrance test.
Along with hall ticket, you must bring original identity proof containing your photograph (Aadhar Card, Voter ID Card, Driving License, Passport and ID Card issued by Govt. Agencies.)
Interview/ Presentation:
In the second stage, the qualified candidates will be called for interview/presentation of Synopsis before the Discipline Doctoral Committee.
The candidates who do not require to appear at the entrance test will also be called for interview/ presentation of Synopsis before the Discipline Doctoral Committee.
Later on, the university will send the Offer letters of admission to the Selected Candidates only.
How to apply for Ignou Ph.D./ M.Phil Admission Online ?
There are few steps and instructions which will guide you to fill up IGNOU Ph.D. and MPHIL application online form successfully. First of all, the candidate has to open up the university official website. Then he/she must download Information Brochure to know about the eligibility criteria and selection procedure.
After deciding for which doctoral programme you to want to take admission in IGNOU, you should move step forward to register yourself on the official website in the very next step. It is mandatory for candidates to register themselves on the website as they cannot fill up the application form for entrance test without logged-in.
To view the website For best viewing the website, you should open it in the latest versions of Mozilla Firefox or Google Chrome browsers at a screen resolution of 1024 x 768 or higher. It should be noted that you will not be able to fill up the application form in the Internet explorer Ver 11 and above.
Registration Steps:
On the homepage of a website, you will see the link "REGISTER YOURSELF" in the upper right side. Please click on it and you will be asked to fill up required registration details.
Set up your Username and password as per the security validations. For both, you can choose between 8 to 16 characters. while choosing the password, please make sure that it must be alphanumeric and strong.
As you fill up all the required registration details, please click on "SUBMIT" button.
You will get the registration confirmation message and your Username will be immediately sent to you via e-mail and SMS.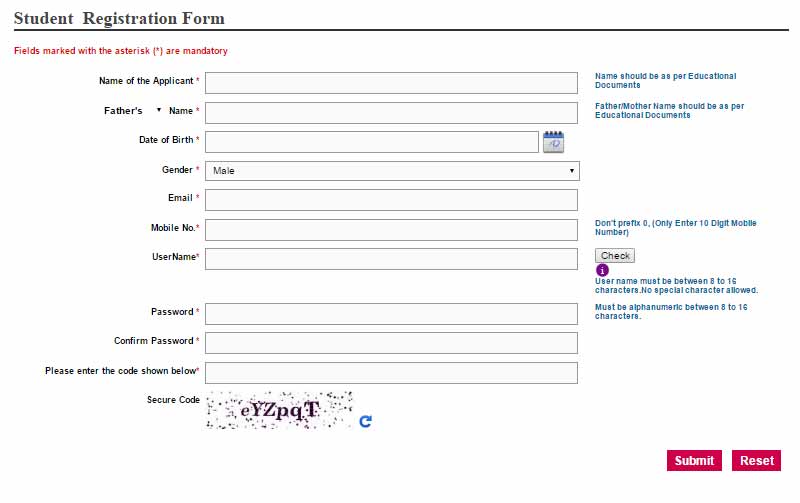 After Logged In:
Before start filling up the application form, please make sure that you have the Scanned Photograph and Signature available with you on your computer because these are required. The file size of a photograph should be less than 100 KB whereas in the case of a signature, it should be less than 50 KB. Also, you must possess required payment method to pay the application fee online. We have mentioned below the steps to fill up application form for IGNOU Ph.D./ MPHIL entrance Test. These are as follows:
As you have already registered yourself in the above steps, you can proceed to logged into the website with your username and password.
Now, enter your personal details, programme details, qualification details and correspondence details.
In the next step, you have to upload your scanned photograph and signature with required specifications.
It's time to pay application fee now. It can be paid by making use of debit/credit card (Master/Visa/Rupay) and Net banking, ATM Card (PNB)
Note: After uploading the photograph and signature in the form, click on the "NEXT" button. As you clicked on it, you will get the Form Preview option. Check out if everything is OK. If yes, then submit it. Also, you must Save/Print your form for future reference.
Contact Details:
In the case of any query regarding the admission or entrance test, you can send an email to [email protected]. Also, you have the privilege to call on following numbers for a quick solution to your query or problem: 011-29571984/1985/1988.