Tu Mera Hero- Watch Star Plus TV Show, Serial, Cast, Crew
tu mera hero cast, tu mera hero hotstar, tu mera hero serial star plus, tu mera hero serial actress name, tu mera hero star cast names: The Star Plus TV Channel has started a new Comedy-drama show "Tu Mera Hero" which has been broadcast worldwide. The show was started on 22nd December 2014 and it is aired on star plus on Monday to Saturday at 8PM IST. The Shashi Mittal and Sumeet Mittal are the producers of the show. The viewers are liking the show very much as they are searching for the Tu Mera Hero star plus ringtones all over the internet to set it on their mobile phones.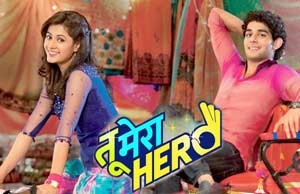 The story of this new TV show is about the lazy guy Ashish Agarwal (Titu) who do not want to work at all. His friend "Golu" always used to help him while eating, drinking, moving,etc. One day a girl named Panchhi come to his life and started thinking to marry him as she was unaware of the fact that he is a lazy person. She believes that he is the real hero whom she wants to marry in her life. Because of the intervention of the Titu's father, she managed to marry to Titu. After the marriage she come to know that she has been married to a lazy guy whom she thinks as her real hero earlier. Then she decides to change him and make him work. Govindnarayan assures Panchi that he will help her in making his son a working man.This is the way the story has been going on for the show Tu Mera Hero.
Tu Mera Hero Star Cast: The actor Priyanshu Jora is the male protagonist who is the playing the character "Titu". The actress Sonia Balani is the female protagonist in the show and she is playing the character "Panchhi". We have mentioned below the star cast who are playing various roles in the show:
Priyanshu Jora as Ashish Agarwal (Titu)
Sonia Balani as Panchi Agarwal
Akhilendra Mishra as Govindnarayan Agarwal
Amita Khopkar as Surekha Agarwal
Madhuri Sanjeev as Rekha Agarwal
Pooja Sharma as Vaishali Agarwal
Neha Kaul as Bhagwati Agarwal
Manav Verma as Keshav Agarwal
Achherr Bhaardwaj as Mukund Agarwal
Tu Mera Hero Tv Show Timings:
Timing :- 8:00Pm to 8:30Pm
Days: Monday to Saturday
Channel:- Star Plus
Genre :- Comedy, Romance, Drama
Language :-Hindi
To watch the latest Episodes of Tu Mera Hero TV Serial, Please visit the official Website: Click Here