IGNOU Previous Year Question Papers, IGNOU 10 Year Old Papers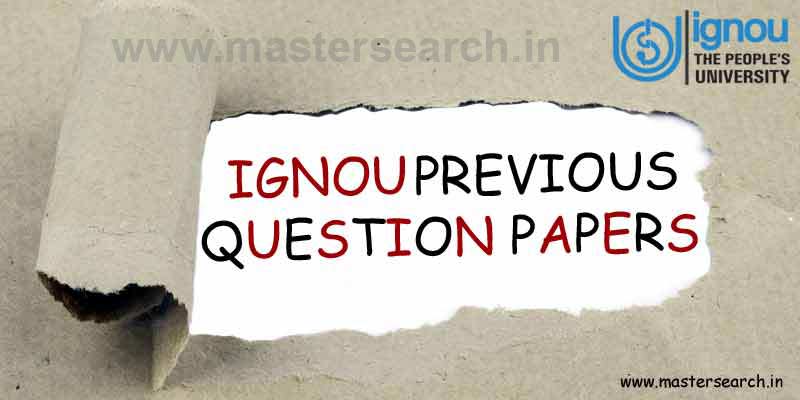 IGNOU Question Papers, IGNOU Previous Year question papers:
The IGNOU Term End Examination has been conducted twice in a year i.e in the months of June and December. The university publishes the exam date sheet two months before the commencement of examinations. This helps the students to start to prepare for upcoming examinations earlier. During the exam preparation, the IGNOU Previous Year Question Papers will help them to get an idea about the exam pattern. Related Article: IGNOU Date Sheet, IGNOU Hall Ticket
Sometimes, the important questions which were included in the IGNOU previous question papers may repeat in the upcoming Term End Examinations or Entrance Examinations. We recommend that the students must go through these papers which can help them in securing high marks. Most of the students who are studying at this distance education university are working and they usually do not have enough time to thoroughly study the complete syllabus. So, they can download the papers in the form of PDF and read out the important question in the papers to prepare for the upcoming examinations.
IGNOU Questions Papers Download:

We have provided below the direct link to download the IGNOU previous question papers for the last ten years. These are as follows:
In this section, you will be able to download the IGNOU Old Question Papers from 2005 to December 2014 for all the programmes and courses. Here you will be able to download the previous papers of Term End Examination and entrance exam for the last 10 years.These previous question papers are available on the university website totally free of cost. So, the students who required these papers can visit the university website and download the previous year question papers for various programmes such as Master Degree, Bachelor Degree, Certificate, PG Certificate, Advanced Certificate, Diploma, PG Diploma, BPP, etc.
Also, the students can download the previous papers for IGNOU Entrance Examinations such as OPENMAT, Bachelor of Education (B.Ed), Master of Education (M.Ed), Post Basic B.Sc. Nursing. The previous question papers has been available for the year : 2007, 2008, 2009, 2010, 2011, 2012, 2013, 2014, 2015, June 2016
How to download IGNOU Previous Question Papers ?
Please visit the university website at www.ignou.ac.in
Follow this path Home Page-> Student Zone-> Question Papers
Click on the appropriate downloading link
Save the question papers to your mobile or computer
Other Related Links: